Course Description
This course contains 5 lessons that describe each part of a typical day of a man. Follow Jeff as he gets up in the morning, gets ready for work, drives to work, works in the office, goes to the market, returns home, does household chores, and goes to bed.
In each lesson, you'll learn common and useful vocabulary for everyday things and situations.
Try a FREE preview of part of a lesson below - just scroll down and click on the Preview buttons!
Course Length (Part 1) -- 2.5 hours (1.75 hours video + text lessons)
---
Lessons Included
Lesson 1 – Getting Up
Jeff hates getting up early! Follow him as wakes up and gets out of bed. You will learn useful vocabulary and idioms, including: to handle, covers, pillow, pillowcase, blanket, light versus heavy, sheets, to match, to go off, jarring, buzzer, to drive (someone nuts), a wake up call, an early versus late riser, to oversleep, and to sleep in.
Lesson 2 – Cleaning Up
Jeff gets ready for his big day by cleaning up in the bathroom. Learn how to use basic vocabulary to describe what's in a bathroom. See how to talk about brushing your teeth, as well as items such as sink, medicine cabinet, tub, mouthwash, floss, gargle, swish, and spit. Jeff also shaves each morning, so you'll learn all you need to know about shaving, electric razors, shaving cream, and blades.
Lesson 3 – Eating Breakfast
It's time to eat! Jeff describes how to make coffee and all the vocabulary you'll need to talk about eating breakfast in English. You'll learn about breakfast foods such as ham, eggs, cereal, waffles, milk, toast, jam, and more. Jeff reads his newspaper in the morning, then cleans up after himself in the kitchen. Now it's time to get dressed!
Lesson 4 – Getting Dressed
Jeff goes back into the bedroom to pick out his clothes for the day. He's terrible about matching his clothes, so asks his wife to help him. You'll learn about Coclothing a typical American man might wear to work, including pants, buckles, socks, suit jackets, sweaters, and more. After getting dressed, he looks at himself in the mirror, but he has to better hurry - he's running late!
Lesson 5 – Commuting
Jeff gets into his car and gets ready for his long morning drive. Learn the English terms for important parts of a car, including gas pedal, back seat, rear and side view mirrors, ignition, stick shift, and automatic transmission, as well as putting the car into park. Follow Jeff down the freeway, on and off exit ramps, and into his work's parking garage. Will he make it to work on time?
Be sure to get Part 2 of this course as well!
Your Instructor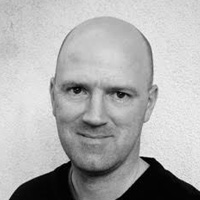 Dr. Jeff McQuillan is a recognized expert and leading researcher in English language learning and teaching. He received his Ph.D. in applied linguistics and education from the University of Southern California, and was a university professor for many years. He's published dozens of articles and books related to linguistics, literacy, and English language learning. His work has appeared in the media both nationally and internationally, including CNN, Washington Post, Los Angeles Times, Deutschlandfunk Radio, El Pais, China Post, MacWorld, Diario Financiero, Universia, The Times (London) and many others.
Course Curriculum
Lesson 0: How to Use This Course
Available in days
days after you enroll
Lesson 1: Getting Up
Available in days
days after you enroll
Lesson 2: Cleaning Up
Available in days
days after you enroll
Frequently Asked Questions
When does the course start and finish?
You have up to 30 days after you purchase the course to access it. It is a completely self-paced online course - take as much time as you'd like on each lesson for one month.
What if I am unhappy with the course?
We would never want you to be unhappy! If you are unsatisfied with your purchase, contact us in the first 30 days and we will give you a full refund.
What is Learn English TV™?
Learn English TV™ is ESLPod.com's video service that gives you online streaming video courses. Learn English TV™ uses video and text materials to teach you English.
How is this different from the courses on ESLPod.com?
Our Learn English TV™ courses are online streaming video courses, with additional text materials. We've taken some of our most popular lessons and turned them into videos.
How do I buy a course?
Just click on the course you want and then click on the green Start Course button. You will be asked to create an account and pay for the course. You can start watching your course right away!
Why doesn't my ESLPod.com login and password work here?
We are using a separate website and software for our new Learn English TV™ video courses. You must create a new account and pay for the video courses separately. They are not included in your memberships, English Collections, or special courses on our website.