Simple English Stories are children's stories written at a low level. These fun and exciting stories include useful vocabulary that is repeated many times in an interesting and meaningful way within the story. Hearing English used many times while hearing a fun story will help children learn English quickly and in a fun and exciting way!
Video Running Time: 36 minutes, 49 seconds
Learning While Having Fun
With Simple English Stories, you and your children will be able to:
INCREASE comprehension of English by listening to easy English sentences
IMPROVE English fluency by reading along with the story
LEARN new words by listening to them over and over again in different stories
HAVE FUN listening to classic children's stories…in real English!
Something For Adults and Older Children, Too!
For older children and adults, each Simple English Stories contains a "Bonus Story" that takes a fresh and different look at the traditional classic story (Story A). This is a humorous and fun way to introduce useful vocabulary. Children and adults can listen together to Simple English Stories—and learn English together!
How it Works
Each Simple English Story is divided into three parts to give your child (and you) many chances to learn important and useful vocabulary and to become more and more comfortable listening to and reading English.
STORY A: This is a classic, popular children's story that all Americans know. It is told simply, with many repetitions of important new words, but in a fun and interesting way within the story. (Beginner Level)
STORY B: This is a new and original children's story that uses at least 60% of the important vocabulary from Story A. The listener gets another opportunity to hear this useful language in an interesting and fun story. (Beginner Level)
STORY C: – Bonus Story: This story takes a new and funny look at the classic story in Story A, from a completely different point of view. This story introduces new vocabulary and is intended for older children and adults. You, too, will learn new and useful English while being entertained by a humorous and interesting story. (Intermediate Level)
Each story has TWO videos: (1) a "learning speed" video (slower and easier to understand) AND (2) a normal speed video.
Learning Guide Included!
Get the most out of Simple English Stories by using the Learning Guide, which has a complete written transcript of every word in all three stories.
Each Learning Guide contains:
A complete transcript of every word in the story
A complete list of the vocabulary and expressions used in the story
Definitions of all the important vocabulary and expressions in the story
Extra sample sentences using the new vocabulary words correctly in context
These Learning Guides give you everything you need to help your child understand the English and have fun at the same time.
SIMPLE STORIES 1
STORY A: THE TURTLE AND THE RABBIT
STORY B: JULIO RUNS A RACE
STORY C (BONUS STORY): TELEVISION INTERVIEW WITH RABBIT
SIMPLE STORIES 2
STORY A: THE BOY WHO CRIED (YELLED) WOLF
STORY B: THE BOY IN THE GARDEN
STORY C (BONUS STORY): THE STORY ACCORDING TO THE WOLF
SIMPLE STORIES 3
STORY A: THE THREE LITTLE PIGS
STORY B: LEON AND THE CHICKEN HOUSE
STORY C (BONUS STORY): THE WOLF IS RUINING MY BUSINESS
Your Instructor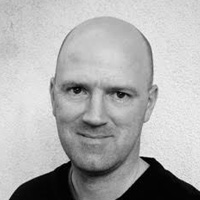 Dr. Jeff McQuillan is a recognized expert and leading researcher in English language learning and teaching. He received his Ph.D. in applied linguistics and education from the University of Southern California, and was a university professor for many years. He's published dozens of articles and books related to linguistics, literacy, and English language learning. His work has appeared in the media both nationally and internationally, including CNN, Washington Post, Los Angeles Times, Deutschlandfunk Radio, El Pais, China Post, MacWorld, Diario Financiero, Universia, The Times (London) and many others.
Frequently Asked Questions
When does the course start and finish?
The course starts now! It is a completely self-paced online course - you decide when you start and when you finish. You have access to the course for 30 days online.
How long do I have access to the course?
Your access to this course is guaranteed for 30 days. Please use the course within 30 days after buying it.
What if I am unhappy with the course?
We would never want you to be unhappy! If you are unsatisfied with your purchase, contact us in the first 30 days and we will give you a full refund.