This course contains 5 lessons that describes each part of a typical day of a woman. Follow Lucy as she gets up in the morning, gets ready for work, travels to work, works in the office, goes to the bank and the market, returns home, does household chores, and goes to bed.
In each lesson, you'll learn common and useful vocabulary for everyday things and situations.
Course Length (Part 1) -- 2.5 hours (1.75 hours video + text lessons)
---
Lessons Included
Lesson 1 – Getting Up
Lucy starts her day by getting up early! Learn the English vocabulary for objects you find in a bedroom in this episode, including pillows, mattresses, sheets, comforters, pillowcases, and nightstands. You'll also follow Lucy as she puts on her robe and does her morning routine by making her bed and getting ready to start her day.
Lesson 2 – Washing Up
Once she's up, Lucy makes her way into the bathroom and begins to clean up. Learn English terms for items in the bathroom, including tub, toilet, sink, medicine cabinet, hairdryer, tampon, and more. Lucy brushes her teeth and flosses before taking a quick shower. Find out how to talk about doing your make-up in this episode as well, including blush, lipstick, mascara, eye shadow, and more.
Lesson 3 – Making Breakfast
Feeling hungry? Lucy is, so she goes into the kitchen to make her breakfast. Learn how to use words related to cooking, such as fridge, frying pan, oil, burner, stovetop, toaster, spatula, and more. You'll also learn common breakfast items in this episode such as cereal, toast, and eggs. Once Lucy finishes breakfast, it's time to wash and dry the dishes.
Lesson 4 – Doing Hair
Like most women, Lucy does her hair and make-up each morning. Learn the English vocabulary to talk about getting your hair ready, including gel, volume, bangs, brush, and hairspray. Having done her hair, Lucy returns to her bedroom to get dressed. What will she wear today? Find out as you learn how to use common terms such as skirt, blouse, closet, casual, suit, pantyhose, heels, and more.
Lesson 5 – Getting to Work
Lucy commutes to work by taking the subway and a bus instead of driving. Follow her on the train and learn vocabulary such as swipe, pass, turnstile, platform, express, handrail, stop, and transfer. Once she gets on the bus, you'll learn how to use terms like get off, exit, on board, route, pulls up to, block, and more.
Be sure to get Part 2 of this course as well!
Not sure? Click to watch a free preview of a Story and Explanation video from our Day in the Life of Jeff course.

Your Instructor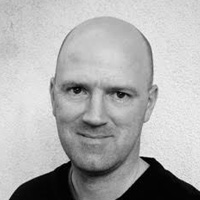 Dr. Jeff McQuillan is a recognized expert and leading researcher in English language learning and teaching. He received his Ph.D. in applied linguistics and education from the University of Southern California, and was a university professor for many years. He's published dozens of articles and books related to linguistics, literacy, and English language learning. His work has appeared in the media both nationally and internationally, including CNN, Washington Post, Los Angeles Times, Deutschlandfunk Radio, El Pais, China Post, MacWorld, Diario Financiero, Universia, The Times (London) and many others.
Course Curriculum
Lesson 0: How to Use This Course
Available in days
days after you enroll
Lesson 1: Getting Up
Available in days
days after you enroll
Lesson 2: Cleaning Up
Available in days
days after you enroll
Frequently Asked Questions
When does the course start and finish?
You have up to 30 days after you purchase the course to access it. It is a completely self-paced online course - take as much time as you'd like on each lesson for one month.
What if I am unhappy with the course?
We would never want you to be unhappy! If you are unsatisfied with your purchase, contact us in the first 30 days and we will give you a full refund.