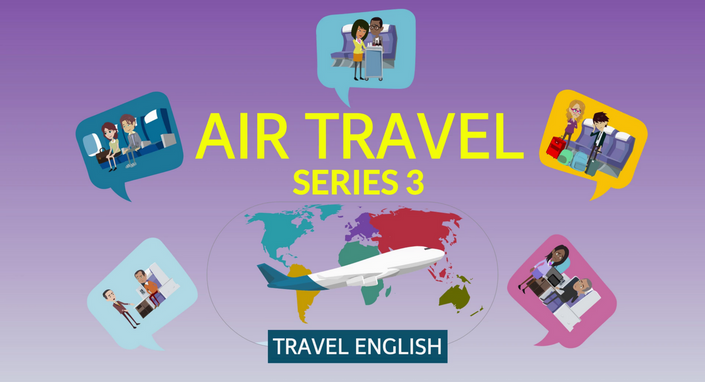 Travel English 3
Air Travel - Series 3
This course contains 5 lessons that will teach you the most common vocabulary related to traveling in an airplane. Watch as different characters deal with situations such as listening to airplane announcements, meeting a stranger on a plane, getting in-flight service, storing luggage, and using electronics while flying.
Course Length (Part 3) -- 2.5 hours (1.75 hours video + text lessons)

---
Lessons Included
Lesson 1 – Airplane Announcements
Do you know someone who travels so much that they've already memorized the announcements made before take-off and landing? Let's watch Jeff listen in on the common airplane announcements, and learn about the things that you can and can't do while inside an airplane. We'll discuss vocabulary such as "emergency exit," "aft," "oxygen mask," "to lose pressure," "flotation device," "elastic band," "to secure (something)," "compliance," and more.
Lesson 2 – Stranger on a Plane
"Fay, this is Dustin. Dustin, this is Fay." Watch as two strangers begin a friendship on an airplane. We'll be discussing terms such as "window seat," "to be off to," "to mind," "to be seeing (someone)," "to make sense," "to show (someone) around," and "to give (someone) the run down." Let's watch and see if we can turn this into a Hollywood movie!
Lesson 3 – In-Flight Service
Ever been on a flight where nothing you ask for is available? Let's watch Hal talk with a flight attendant as he struggles to get items such as "blankets," "pillows," "meals," and an "air-sickness bag." We'll also discuss the common words and expressions used commonly when asking for some help from people who work on an airplane. Buckle up. It's going to get "bumpy"!
Lesson 4 – Storing Luggage
Yoshi and Tatiana are going on a vacation to take a break and relax. Before they can do that, they need to stress about storing their luggage and getting the wrong seats. Watch as we talk about common travel vocabulary such as "roller bag," "overhead bin," "to store," "cramped," "carry-on," and so much more.
Lesson 5 – Wait-Listed for a Flight
We all know that there are a few rules you need to follow when using your portable electronic devices on an airplane. Watch as a flight attendant struggles to talk to a passenger named Alec, and tell him about all these regulations. We'll discuss words and expressions like "fuss," "signal," "to emit," "communication system," "to interfere with," "to twiddle one's thumbs," "FAA," and many more.


Be sure to get Part 1 and Part 2 of this course as well!
Not sure? Click to watch a free preview of a Story and Explanation video from our Day in the Life of Jeff course.

Your Instructor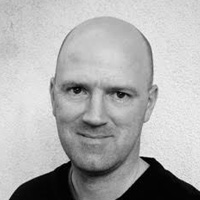 Dr. Jeff McQuillan is a recognized expert and leading researcher in English language learning and teaching. He received his Ph.D. in applied linguistics and education from the University of Southern California, and was a university professor for many years. He's published dozens of articles and books related to linguistics, literacy, and English language learning. His work has appeared in the media both nationally and internationally, including CNN, Washington Post, Los Angeles Times, Deutschlandfunk Radio, El Pais, China Post, MacWorld, Diario Financiero, Universia, The Times (London) and many others.
Course Curriculum
Lesson 1: Airplane Announcements
Available in days
days after you enroll
Lesson 2: Stranger on a Plane
Available in days
days after you enroll
Lesson 3: In-Flight Service
Available in days
days after you enroll
Frequently Asked Questions
When does the course start and finish?
You have up to 30 days after you purchase the course to access it. It is a completely self-paced online course - take as much time as you'd like on each lesson for one month.
What if I am unhappy with the course?
We would never want you to be unhappy! If you are unsatisfied with your purchase, contact us in the first 30 days and we will give you a full refund.